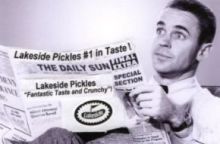 We are always developing new processes and manufacturing techniques to keep our high level of quality and customer satisfaction!
WE WANT TO KEEP A CRUNCH ABOVE THE REST!
This is why we are constantly experimenting with new vegetable varieties, growing methods and processes.
2013 was a very strong year for us! We introduced several new products into the market place.
This year (2014), we have been very busy launching several new products; pickled eggs, pickled asparagus, hot pepper jelly, new hot sauces ("Da BomB" 500,000 scouvilles) and pickled okra.
Soon our new product line will be ready, our "Aunt Golda's" Old Fashion Preserves. Focusing on old time recipes and flavours with Grandma's special touch. Candied items and homestyle preserves packed in a Mason jar.
Also, our Chef Alan's Italian style pasta sauce line is available in many upscale gourmet stores throughout North America. We will be adding new products– an antipasto and a blush sauce to compliment this line.
Our BBQ sauce won 1st place at the Silon Ranch's annual Rib Fest last August.
We received several accolades recently:
Best Quality Products (E.S.O.A)
Crunchiest Pickles and Best Flavour Award (F.D.D. Magazine)
Best Hot dog Toppings Award (I. Vendors Award)
An Award of Excellence (Europe I.U. Agency)